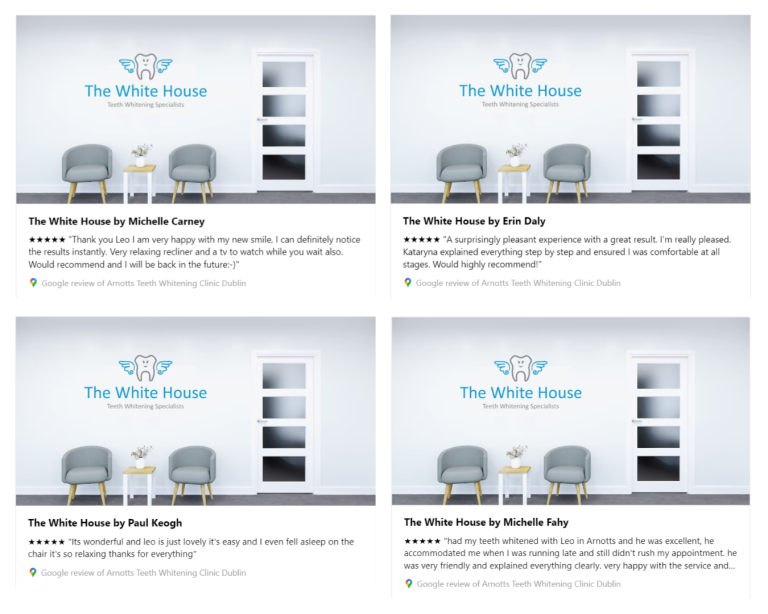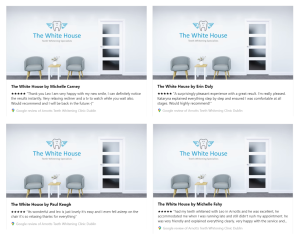 Today, we want to say thank you to all The White House customers that have helped us show potential customers the value of our products and services.
Here are a few reviews that our customers who have visited us in our Arnotts clinic have kindly taken the time to provide us with.
"Thank you Leo I am very happy with my new smile, I can definitely notice the results instantly. Very relaxing recliner and a tv to watch while you wait also. Would recommend and I will be back in the future:-)" ~ Michelle C.
---
"A surprisingly pleasant experience with a great result. I'm really pleased. Kataryna explained everything step by step and ensured I was comfortable at all stages. Would highly recommend!" ~ Erin D.
---
"Its wonderful and leo is just lovely it's easy and I even fell asleep on the chair it's so relaxing thanks for everything" ~ Paul K.
---
"had my teeth whitened with Leo in Arnotts and he was excellent, he accommodated me when I was running late and still didn't rush my appointment. he was very friendly and explained everything clearly. very happy with the service and result" ~ Michelle F.
---

See what our customers are saying.
We're conveniently located in Arnotts, first level, in the heart of Dublin City Centre. You'll find us when you walk into Arnotts from the Henry Street side, take the escalator up to the first level, turn left through the shoe department and you will find us at the beauty services centre, ask for us at reception where we are located with Zeba and Ozlo.
When you arrive, you'll be greeted by our friendly staff and welcomed into our comfortable and modern clinic. We can't wait to show you how we're transforming smiles at The White House! 
Are you looking to get your teeth whitened? Click here to book an appointment.
Have any questions? Feel free to read through our FAQs or email us at info@thewhitehouse.ie or give us a quick call at 01 679 0980.
We look forward to brightening your smile.