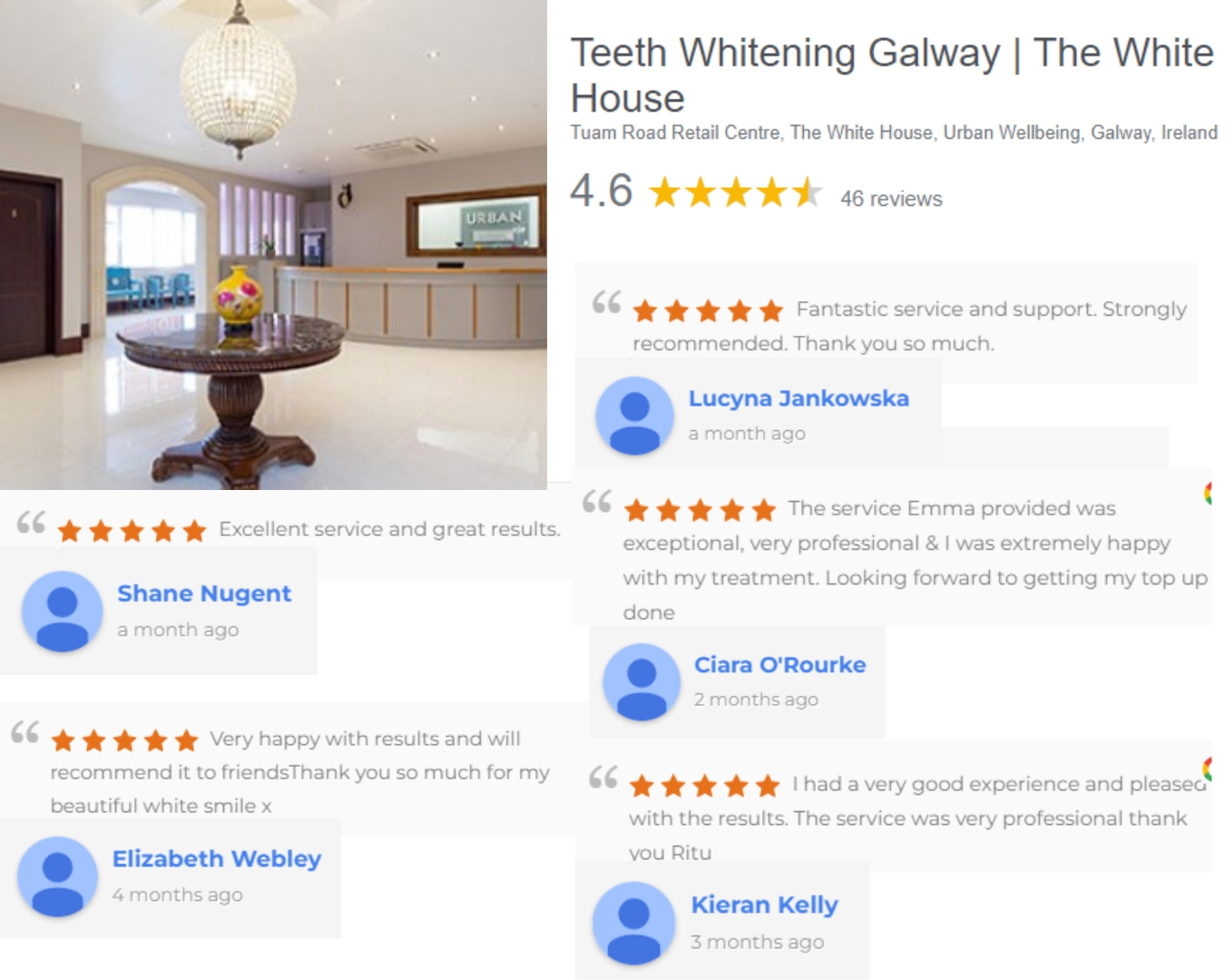 Bright Smiles of Galway: Our Customers Speak
At The White House Clinic in Galway, we're all about giving you the radiant smile you deserve. We're thrilled to share the experiences of our satisfied customers who have visited our Teeth Whitening clinic. Our commitment to excellence and exceptional service shines through in these heartwarming reviews:
"Excellent service and great results." – Shane N.

"Fantastic service and support. Strongly recommended. Thank you so much." – Lucyna J.

"The service Emma provided was exceptional, very professional & I was extremely happy with my treatment. Looking forward to getting my top up done." – Ciara O.

"I had a very good experience and pleased with the results. The service was very professional thank you Ritu." – Kieran K.

"Very happy with results and will recommend it to friends. Thank you so much for my beautiful white smile x" – Elizabeth W.
We want to extend a very warm welcome to everyone who took a little bit of their time to leave us a review.
Whether you're looking to enhance your smile for a special occasion or simply want to boost your confidence, our Teeth Whitening treatment is here to help.
If you're ready to unveil your own brighter smile, we invite you to book your Teeth Whitening appointment with us. Our convenient online booking system makes it easy. Simply click here to schedule your visit.
For any questions or further assistance, don't hesitate to reach out to us at 01 890 4613 or email us at info@thewhitehouse.ie. Our friendly team is always here to assist you.
We can't wait to welcome you to The White House Clinic and help you achieve the dazzling smile you've been dreaming of. See you soon!